【Special Summer Exhibition】"Have Fun with the Ancient Orient World!" & "Gold, Silver, and Copper!"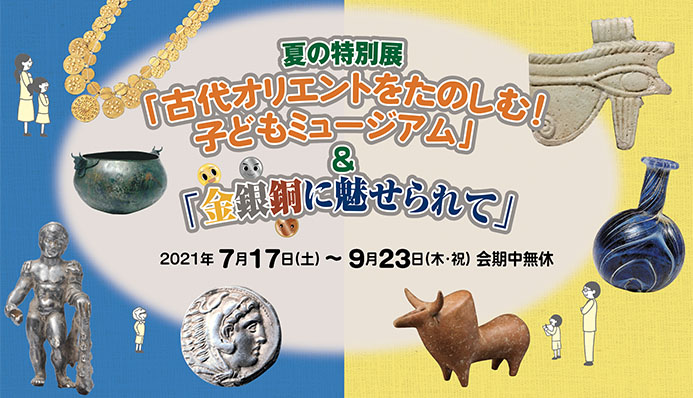 17 July 2021 (Sat.) - 23 September 2021 (Tue.)
【Special Summer Exhibition】
"Have Fun with the Ancient Orient World!" & "Gold, Silver, and Copper!"
Enjoy two exhibitions this summer.
The first exhibition, "Have Fun with the Ancient Orient World!" presents the fascinating wonders and worlds of the Ancient Orient through our collection gallery. Come and join in the fun, such as easily understandable quiz-like panels and an ancient ruins stamp rally. Everyone from children to adults can enjoy the activities.
The second exhibition, "Gold, Silver, and Copper!" focuses on the metals of gold, silver, and copper that have attracted people from ancient to modern times. By showcasing accessories, weapons, coins, and vessels made of gold, silver, and copper, the exhibition introduces their history, production techniques, and how to use them.
Dates

17 July 2021 (Sat.) - 23 September 2021 (Tue.)

Opening hours

10:00~16:30 (last admission 16:00)

Admission fees

Adult 700 JPY | Students 500 JPY | School children 200 JPY
- ¥100 discount for groups of over 20 people, half price for visitors with disabilities and free entry for one attendant.

* Please note that the exhibition and related events may be cancelled or rescheduled due to the changing conditions of the COVID-19 outbreak.

Hosted by

The Ancient Orient Museum, Tokyo

Special Sponsorship

Sunshine City

Co-sponsorship

Toshima City, Toshima City Board of Education

令和2年度 文化庁 地域と共働した博物館創造活動支援事業