CURRENT EXHIBITION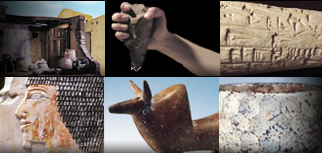 Time Travel to the World of the Ancient Orient (Museum Collections)
* Please note that the Museum Collections will be closed 8 July - 12 July 2019, and 24 Septemper - 4 October 2019 due to exhibition updates.
CURRENT EXHIBITION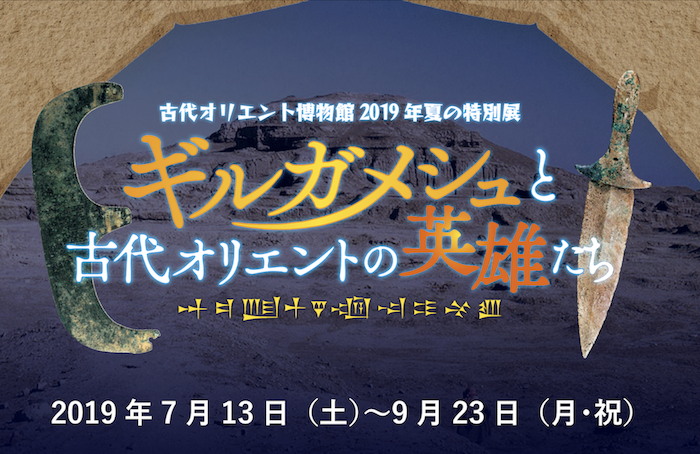 【Special Exhibition】 Gilgamesh and Heroes of the Ancient Orient
The Gilgamesh Epic, which deals with ancient Mesopotamian heroes, is known as the "the oldest existing literature." It includes topics that are common with contemporary literature, such as friendship, life and death, faith and, adventures by heroes. The Gilgamesh Epic has, not only influenced past ages, but still retains its brilliance even in the present. Recently, Gilgamesh has been adopted as a game character, and is gaining in popularity among young generations.
It is said that the hero Gilgamesh reigned as king of the city of Uruk (today's Iraq), archaeologically called "the world's oldest city", and is known as the place where the world's oldest writing (cuneiform scripts) were invented. This exhibition will show the archeological materials, arts and crafts, and models related to daily life 5000 years ago in Mespotamia. These displays introduce, the world of heroes and gods of the ancient Near East, including the hero Gilgamesh, and the influence of this hero epic on future generations.
Notice
Between 10 August and 25 August, crowding is expected, and entry to our museums may be restricted. Ticket sales will take place in Hall D on the 1st floor of Sunshine City Bunkakaikan.
Plan Your Visit
Opening Hours
10.00 - 17.00 (Last admission 16.30)
Short guides in English, Korean, and Chinese are available from the museum reception.
Evening Gallery: 10:00 – 20:00 on occasional Fridays when Evening Lectures are scheduled (admission up to 19:30).
Read More (in Japanese)
Closed
New Year holidays from late December to early January, and during exhibition updates
Admission Fees (Museum Collections)
| | | |
| --- | --- | --- |
| | Individual | Group (over 20 people) |
| Adults | 600 Yen | 500 Yen |
| Students | 500 Yen | 400 Yen |
| Schoolchildren | 200 Yen | 100 Yen |
- Special Exhibitions require separate admission fees (visit each Japanese page for Special Exhibitions).
- Free for Museum Members.
- Elementary and junior high school students (with school ID) are free on Saturdays and Sundays (Museum Collections only).
- Half price for visitors with disabilities and free entry for one attendant.
For further information, please contact the museum reception.
Guidelines for Visitors
- Please refrain from any actions that may disturb other visitors or damage museum facilities.
- Smoking and eating/drinking inside the museum are strictly prohibited.
- Photographing the objects on display is not allowed without permission.
- Dangerous items and pets are also prohibited in the museum (except service animals).
Access to the Museum
Public Transportation
approximately 15-minute walk from Ikebukuro Station, East exit (JR Lines, Tokyo Metro subway, Seibu and Tobu Lines), or 6-minute walk from Higashi-Ikebukuro Station (Tokyo Metro Yurakucho Line), exits Nos. 6 and 7.
Parking
Sunshine City Underground Parking (300 Yen/30 minutes)
Contact
Higashi-Ikebukuro 3-1-4, Toshima-ku, Tokyo 170-8630, Japan
Sunshine City Bunka-kaikan 7th floor
TEL: +81-3-3989-3491  FAX: +81-3-3590-3266
e-mail: museum●orientmuseum.com (replace ● with @)

Partnerships
Campus Partnerships
Free of charge for students and staff who are affiliated with the following universities (please show your student/staff ID at the museum entrance): Kokushikan University, Sophia University, University of the Sacred Heart Tokyo, and Rikkyo University.

平成29年度 地域の核となる美術館・歴史博物館支援事業