CURRENT EXHIBITION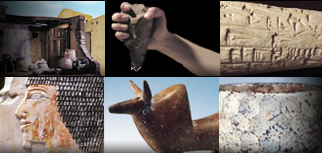 Time Travel to the World of the Ancient Orient (Museum Collections)
* Please note that the Museum Collections will be closed 8 July - 12 July 2019, and 24 Septemper - 4 October 2019 due to exhibition updates.
CURRENT EXHIBITION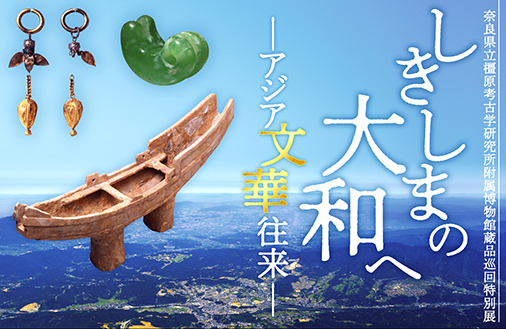 Ancient Yamato: A Glorious Narrative of Japan and Asian Civilizations
As praised by ancient poets in the waka anthology of Man'yōshū, ancient Yamato (present day Nara) is renowned for its graceful land in the middle of the Japanese islands, surrounded by verdant mountains. This exhibition presents some of the masterpieces from this region that have been excavated by the Archaeological Institute of Kashihara during the past 80 years.
Since prehistoric times, people in the Japanese archipelago strived to create their own cultures, whilst being culturally influenced by the Korean peninsula or the Eurasian continent. Ancient Yamato was truly the heartland of Japanese civilization where the first tumuli for early kings were built and the earliest state was established; events that laid the foundations of the Japanese way of life and culture.
This landmark exhibition showcases a wide range of artefacts from the Jōmon to the medieval period (Jomon and Yayoi ceramics, figurines, royal regalia from tumuli, ornaments of jade and other semi-precious stones, mirrors, bronze and iron weapons, iron armour, Buddhist art, and cultic paraphernalia), representing the achievements of ancient Yamato over a ten thousand year period. The exhibition explores, through the ages, how ancient Yamato took shape as a powerful cultural and political hub, and how interactions with Asian civilizations were involved in the history of Yamato.
Plan Your Visit
Opening Hours
10.00 - 17.00 (Last admission 16.30)
Short guides in English, Korean, and Chinese are available from the museum reception.
Evening Gallery: 10:00 – 20:00 on occasional Fridays when Evening Lectures are scheduled (admission up to 19:30).
Read More (in Japanese)
Closed
New Year holidays from late December to early January, and during exhibition updates
Admission Fees (Museum Collections)
| | | |
| --- | --- | --- |
| | Individual | Group (over 20 people) |
| Adults | 600 Yen | 500 Yen |
| Students | 500 Yen | 400 Yen |
| Schoolchildren | 200 Yen | 100 Yen |
- Special Exhibitions require separate admission fees (visit each Japanese page for Special Exhibitions).
- Free for Museum Members.
- Elementary and junior high school students (with school ID) are free on Saturdays and Sundays (Museum Collections only).
- Half price for visitors with disabilities and free entry for one attendant.
For further information, please contact the museum reception.
Guidelines for Visitors
- Please refrain from any actions that may disturb other visitors or damage museum facilities.
- Smoking and eating/drinking inside the museum are strictly prohibited.
- Photographing the objects on display is not allowed without permission.
- Dangerous items and pets are also prohibited in the museum (except service animals).
Access to the Museum
Public Transportation
approximately 15-minute walk from Ikebukuro Station, East exit (JR Lines, Tokyo Metro subway, Seibu and Tobu Lines), or 6-minute walk from Higashi-Ikebukuro Station (Tokyo Metro Yurakucho Line), exits Nos. 6 and 7.
Parking
Sunshine City Underground Parking (300 Yen/30 minutes)
Contact
Higashi-Ikebukuro 3-1-4, Toshima-ku, Tokyo 170-8630, Japan
Sunshine City Bunka-kaikan 7th floor
TEL: +81-3-3989-3491  FAX: +81-3-3590-3266
e-mail: museum●orientmuseum.com (replace ● with @)

Partnerships
Campus Partnerships
Free of charge for students and staff who are affiliated with the following universities (please show your student/staff ID at the museum entrance): Kokushikan University, Sophia University, University of the Sacred Heart Tokyo, and Rikkyo University.

平成29年度 地域の核となる美術館・歴史博物館支援事業