【Close-up Exhibition】Jerusalem, The Sacred Place for Prayers -Haruo Nakano Photo Exhibition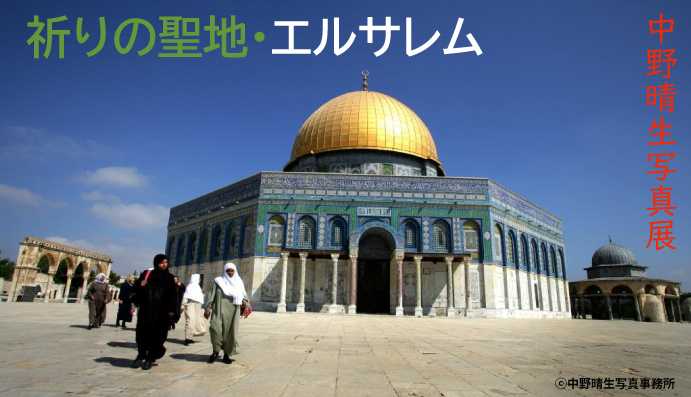 7 December 2019 – 13 January 2020
【Close-up Exhibition】
Jerusalem, The Sacred Place for Prayers -Haruo Nakano Photo Exhibition
Jerusalem's Old City in Israel/ Palestine is a holy place for the three major religions of Christianity, Judaism and Islam.
For Christians, it was once the center of the world. For Jews it was the place where Solomon's temple stood, the only place dedicated to Yahweh. For Muslims it is the place where the prophet Muhammad ascended to hear the Allah's announcement. It is the place connected to the heaven.
These photographs were taken by photographer Haruo Nakano in Jerusalem,, a sacred place for Judaism, Christianity, and Islam, Sacred places such as shrines around Japan and as Ise Jingu are the photographer's theme for many years .

Hosted by

The Ancient Orient Museum, and Haruo Nakano Photography Office

Exhibition Period

7 December, 2019 – 13 January, 2020
※The museum will be closed from 26 December 2019 to 3 January 2020 due to the New Year holidays.

Opening hours

10:00 ~ 17:00 (last admission 16:30)
* Closing time will be extended to 20:00 (last admission 19:30) on Friday 20 December due to the night lecture.

Admission fee

Adult 600 JPY | Students 500 JPY | Schoolchildren 200 JPY for junior and senior high school students
- ¥100 discount for groups of over 20 people, half price for visitors with disabilities half price for visitors with disabilities and free entry for one attendant.
- Elementary and junior high school students (with school ID) are free on Saturdays and Sundays.
(Price includes entry to the Museum Collections)
※ Admission fee also includes the Collection Gallery exhibition.

Exhibits

Photo panels

(Notice)
To protect From the viewpoint of the copyright of the photographer and the portrait right of the subjects, photography is prohibited in theis close-up exhibition area.

平成31年度 文化庁 地域の博物館を中核としたクラスター形成事業