Close-Up Exhibition: Beautiful Persian Calligraphy and Poetry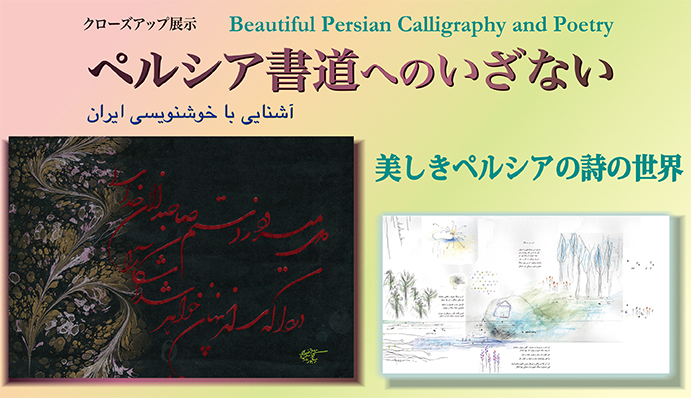 Wed 1 April 2015 - Sun 17 May 2015
Close-Up Exhibition
Beautiful Persian Calligraphy and Poetry
Persian and Japanese calligraphy have very strong similarities. Children start learning how to write beautiful letters in elementary school. Calligraphy has become one of the most refined cultures.

In 1996, we began offering Japan's first Persian calligraphy class, taught by Hisako Tsunoda, who studied Persian calligraphy in Iran. We now present the fourth exhibition of the class.

This exhibition focuses on Persian poetry.
Iranians love poetry; it is said that all Iranians have poetry books and use poetry phrases in daily life. Haiku, a Japanese poetic form, is also gaining popularity in Iran and is employed by Iranian poets.

At this exhibition, you can enjoy the Persian calligraphic works of poetry from classical to modern poets, including Omar Khayyám and Hafez, and Japanese Haiku translated into Persian. Furthermore, the poetry and paintings of M. Reza Rahbar, an Iranian poet living in Japan, are also on display.

One of the most common feedback received despite viewers often being unable to read the Persian script is that Persian calligraphy is like graceful music. Its flowing beauty attracts us across language barriers and cultural differences.

We hope that visitors will enjoy the Persian calligraphy and poetry, and will join us at the next exhibition!
Period

Wednesday 1 April, 2015 - Sunday 17 May, 2015

Opening Hours

10:00 - 17:00, every day (admission is closed at 16:30)

Admission Fees

600 (500) yen for adults
500 (400) yen for students
200 (100) yen for schoolchildren

*This fee includes admission to the Standing Exhibition.
*Elementary and junior high school students (with school ID) are free for admission fee on Saturdays and Sundays.
* ( ) indicate prices for those in groups of 20 or more.
*Visitors with disabilities receive a half price discount and free entry for one attendant.

Related Events