Ancient Yamato: A Glorious Narrative of Japan and Asian Civilizations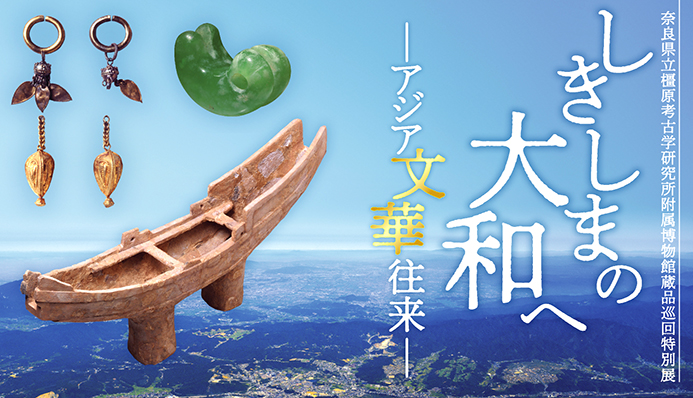 5 October - 1 December 2019
【Special Exhibition】
Ancient Yamato: A Glorious Narrative of Japan and Asian Civilizations
 As praised by ancient poets in the waka anthology of Man'yōshū, ancient Yamato (present day Nara) is renowned for its graceful land in the middle of the Japanese islands, surrounded by verdant mountains. This exhibition presents some of the masterpieces from this region that have been excavated by the Archaeological Institute of Kashihara during the past 80 years.
Since prehistoric times, people in the Japanese archipelago strived to create their own cultures, whilst being culturally influenced by the Korean peninsula or the Eurasian continent. Ancient Yamato was truly the heartland of Japanese civilization where the first tumuli for early kings were built and the earliest state was established; events that laid the foundations of the Japanese way of life and culture.
This landmark exhibition showcases a wide range of artefacts from the Jōmon to the medieval period (Jomon and Yayoi ceramics, figurines, royal regalia from tumuli, ornaments of jade and other semi-precious stones, mirrors, bronze and iron weapons, iron armour, Buddhist art, and cultic paraphernalia), representing the achievements of ancient Yamato over a ten thousand year period. The exhibition explores, through the ages, how ancient Yamato took shape as a powerful cultural and political hub, and how interactions with Asian civilizations were involved in the history of Yamato.
How about Exhibition Outline
Section I Before Kingship: 1. Jōmon Hunter-Gatherers, 2. Rice farming changed the islands, 3. Contact with external civilizations
Section II Emergent Kingship and External Stimuli: 1. Centre and periphery on the eve of state formation, 2. Keyhole-shaped tumuli, 3. Exotic and prestige materials
Section III Unification of the Islands and Asian Cultures: 1. Innovative technologies from Eurasia, 2. Sources of royal power, 3. Trading with Asian countries
Section IV Full-fledged Ancient State and Diplomacy: 1. Building palaces, 2. Kami (deity or spirit) worship and Buddhism, 3. Diplomacy with Asian countries
Section V Creating a Glorious Yamato Culture

Exhibition period

5 October - 1 December 2019
* Museum Collection galleries (limited) are also open during this exhibition.


Venue

Exhibition hall at the Ancient Orient Museum, Sunshine City Bunkakaikan 7th floor

Opening hours

10:00~17:00 (last admission 16:30)
* Closing time will be extended to 20:00 (last admission 19:30) on Fridays 25 October and 22 November due to night lecture days.

Admission fees

Adult 900 JPY | Students 700 JPY | Schoolchildren 400 JPY
- ¥100 discount for groups of over 20 people, half price for visitors with disabilities and free entry for one attendant.

Co-hosted by

The Ancient Orient Museum, Tokyo Shimbun, and The Museum of the Archaeological Institute of Kashihara

Special Sponsorship

Sunshine City

Co-sponsorship

Toshima City, Toshima City Board of Education

Supported by


This exhibition is supported by the Partnership Project within the Culture City of East Asia 2019, Toshima Project.
For more information on the Culture City of East Asia 2019 Toshima Project, visit the official webpage.

Exhibition Catalogue

The Museum of the Archaeological Institute of Kashihara and Tokyo Shimbun (eds.), Ancient Yamato. 80 pages, colour, B5 size. Price 1,000 JPY excluding tax.
Related Events

平成31年度 文化庁 地域の博物館を中核としたクラスター形成事業