Special Exhibition: Welcome to Ancient Paradise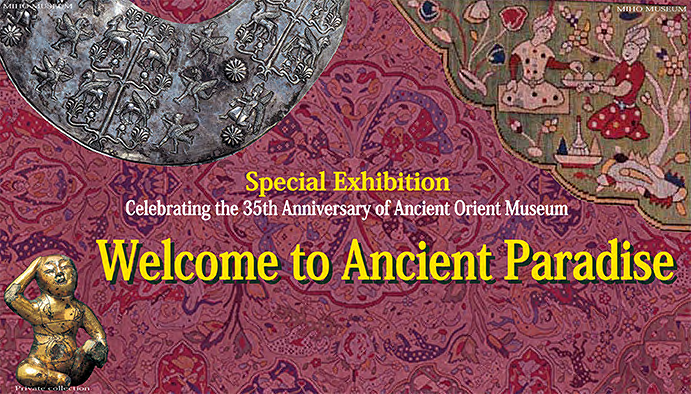 Sat 5 October 2013 - Sun 8 December 2013
What is your idea of paradise?
Some may think that it is a beautiful tropical land with plenty of trees and flowers, while others have an image of a quiet and relaxing atmosphere. Still others imagine a rich banquet with delicious food and drink. Although the image of "paradise" differs from one person to another, there have been common features such as desire for happiness, peace, and prosperity since ancient times.
This exhibition is divided into five parts: Ancient Egypt, Ancient West Asia, Ancient Mediterranean Area, Ancient South Asia, and Ancient East Asia. It includes a wide array of images related to paradise. We hope that visitors will enjoy the exhibition and compare their ideas of paradise with those of the ancient world.
Period

Sat 5 October, 2013 -Sun 8 December, 2013

Opening Hours

10:00 - 17:00, every day (admission is closed at 16:30)

Admission Fees

Adults: 800 (700) yen
Students: 600 (500) yen
Schoolchildren: 300 (200) yen

* ( ) indicate prices for those in groups of 20 or more.
*Half charge for the visitors with disabilities plus free of charge for one attendant

| | |
| --- | --- |
| ・Organizer | Ancient Orient Museum |
Major works in this exhibition
| | |
| --- | --- |
| Ancient Egypt | Book of the Dead, Mummy mask, Silver amulet of Nefertem, Mummy of Tutankhamun (Replica) |
| Ancient West Asia | Prehistoric clay figurine, Cylinder seal, Silver vessel of the Sasanian Period, Islamic pottery |
| Ancient Mediterranean Area | Greek vase, Roman glass vase, Roman fresco painting |
| Ancient South Asia | Painted pottery, Gandharan relief, Silver sarira reliquary |
| Ancient West Asia | Chinese mirror, Plaque with a image of mythological tree, Stone funerary couch, Japanese mirror, Raigo painting |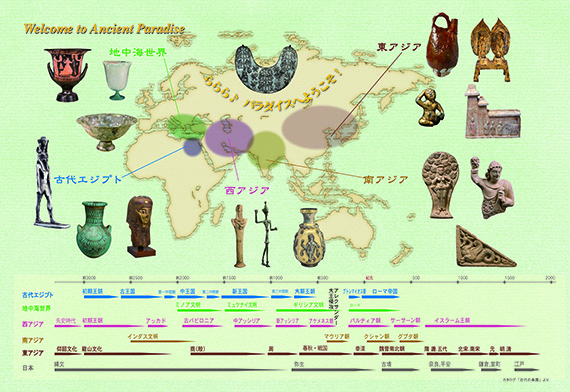 Multimedia Display : "Close-up Loupe"